Partner Spotlight
Over the past eight years, JA and Prudential Annuities have built a true partnership. What began as sponsorship of a few classrooms has developed into an impactful collaboration of our two organizations. Prudential provides volunteers who serve as mentors to our students, as well as the funding to help implement the programs.
Highlights from this past year include: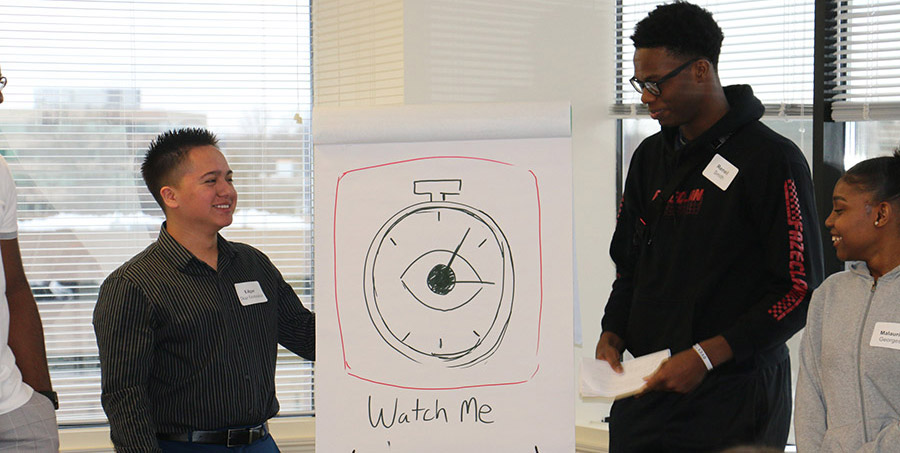 Innovation Day with Central High School
25 high school students worked in small teams with Prudential mentors with the task of developing the idea for a product or service to bring to market. Students utilized skills such as teamwork, collaboration, critical thinking and brainstorming to develop innovative solutions to today's problems. Here are what the students had to say:
"I love that we could talk with people we don't really know and make a product that can solve our problems in every single way possible. I liked to talk with Jeff and I see him as a role model. I think I have changed my mind on what I want to do, and to look into communications" – Edgar
"I worked with other people and interacted with them even know I didn't' know them. I got out of my comfort zone, and created something useful with awesome people!" – Malaurie
"This activity was very hands on so we gained some experience and met new people. I took a lot out of today. I had a great time!" – Javin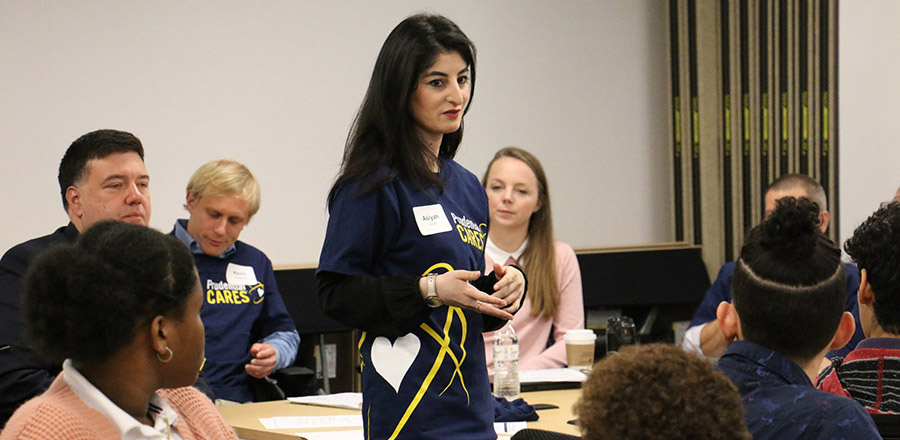 Prudential Virtual Exchange Project
In partnership with Prudential, Junior Achievement piloted the Virtual Exchange Program in the fall of 2017, and this program recently completed its successful second year. A class of students from Bridgeport, CT and Ireland were selected to participate in this highly collaborative virtual exchange, during which they were introduced to a global financial marketplace through the use of technology. Students worked in teams alongside their Prudential mentors from both countries over a two-month period in order to develop, create and build a financial application. The project concluded with teams of students presenting their final product, approach taken, and obstacles encountered to a panel of Prudential executives, who were able to lend real-time feedback on each application.
"This was an awesome experience that allowed students to exercise what they have learned and create relevant product. Students gained confidence, practiced giving presentations, relevant practice creating/coding apps, collaboration, resume building, experience in creating and using multimedia, and pride in producing and presenting a final product" – Stanley deCastro, Fairchild Wheeler Teacher
"This was an amazing experience for me. I enjoyed working with the volunteers from Prudential because they helped us a lot and they taught us a lot about the topic. They were very supportive." – Fairchild Student
Prudential also continues to sponsor and volunteer at Thomas Hooker School in Bridgeport each year. Thank you Prudential for all that you do for JA and area students!